Address & Directions
Department of Earth and Environmental Sciences
Chair of Geology

Luisenstr. 37
80333 Munich
Administrative office:
phone +49 (0)89 - 2180 – 6699
sekretariat@iaag.geo.uni-muenchen.de

Location
The Chair of Geology of the Department of Earth and Environmental Sciences is housed in the LMU building Luisenstr. 37 (near Königsplatz). The geological museum is in the same building, with direct access to the adjacent paleontological museum. The famous art gallery Lenbachhaus is right next door. Our building is accessible Monday through Friday 7 a.m. to 10 p.m. (to 7 p.m. during the semester break). The building is closed on Saturdays and Sundays.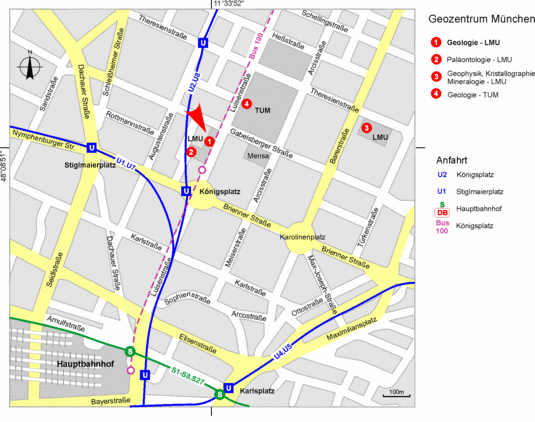 There is only limited parking space available, all with park meters. We strongly suggest to use public transport. The subway stations Königsplatz (U2) and Stiglmaierplatz (U1), and the main train station (Hauptbahnhof), are all within walking distance. The walk between our building and the main train station is 10 - 15 minutes. From Hauptbanhof Nord, buses 58 and 100 can take you in a few minutes to the "Königsplatz" bus stop, which is only about 50 m from our door. There is also a bus stop (lines 68 and 100, stop "Königsplatz") right in front of our building. These buses can take you back to Hauptbahnhof.