Geology Homepage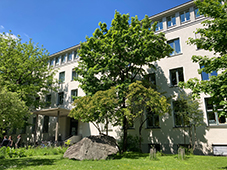 Welcome to the homepage of the Chair of Geology of the Department of Earth and Environmental Sciences .
3D Geological Outcrop of the Month
Strongly altered volcanic rocks with liesegang rings. Denver plant, Rodalquilar mine, Cabo de Gata Natural Park, Almeria, southern Spain.
Geological tour of courtyard
Check out the history of the boulders in the courtyard. Double-click on window to view at full screen.